Class 2
Welcome to Class 2!
Class 2 have been thinking about what makes them a special and unique friend. Some of our specialities are being kind, sharing, giving cuddles and telling funny jokes.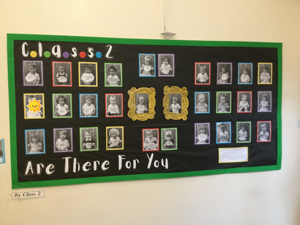 Expressive Art and Design
Class 2 have been looking at colour. We have thought about how different colours make us feel and have discovered what happens when we mix primary colours together.
We have looked at the work of Joan Miro who often used bold, bright shapes entwined with black lines and symbols in his paintings. This then inspired us to create our own version by sticking coloured shapes on a large piece of paper and then rolling a dice to decide whether we added a spiral, star or wavy line.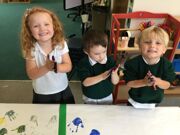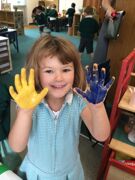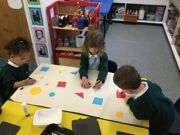 Wild Wednesday
The children have enjoyed exploring the local environment looking for signs of Autumn. We collected lots of natural resources that we used to create interesting transient art pictures. The children made various representations of people and animals linked to the seasonal story of the 'Leaf Man'. The children have also utilised the abundance of fallen leaves to make a variety of autumnal prints. We even got the added surprise of finding a hidden minibeast!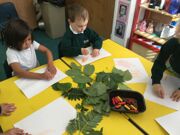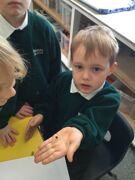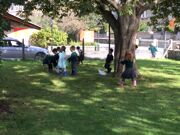 Water play
One of the most popular areas in Class 2 is the water tray. The children have been developing their upper body strength by pouring imaginary cups of tea from very large metal teapots. Beware though because we have found the odd shark floating in our tea cups!!